Recognizable as rice in both name and appearance, wild rice is actually a part of the grain family. Grown in North America near the Great Lakes, this crop is only one of two members of the grain family that are indigenous to the continent. Wild rice flourishes in relatively shallow water, making its home in lakes, rivers, and bays and maturing during the fall.
Unlike other grains, wild rice has traditionally been harvested by Native Americans using a specific method. Even to this day, harvesting Minnesota wild rice requires a license and must be performed using historic techniques. Maitreya brings this delicious wild rice right to your doorstep, allowing you to incorporate its great flavor and delicate chew into your favorite dishes.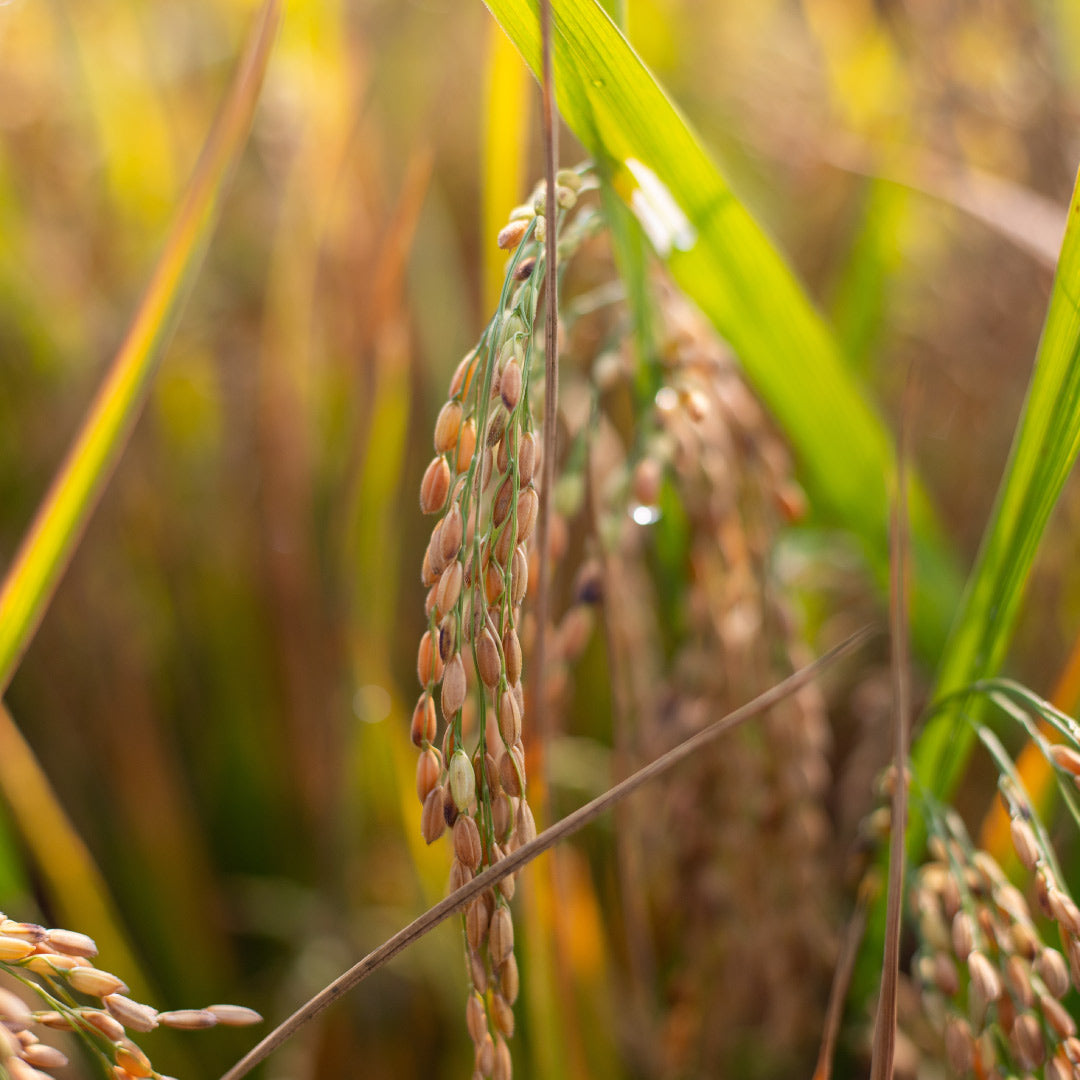 History of Wild Rice
Found deep beneath the soil in layers of earth thought to be over 12,000 years old, wild rice has been a diet staple for many. It was consumed by Native Americans and introduced to European fur traders in both Canada and the upper central portion of the United States. The name wild rice came from early English explorers and has persisted to the present day.

Wisconsinite Joseph Bowron suggested growing wild rice as a crop in 1852, and by 1958, over 100 acres in Minnesota was devoted to cultivating this grain. As wild rice grew in popularity, larger crops began to form, with the highest concentration of wild rice maturation occurring in Minnesota and California. European researchers are currently trying to produce the crop locally as well.
Wild Rice Harvested & Cultivation Today
The methods of harvesting wild rice have come a long way since the techniques used by Native Americans, however, some small-batch farmers still employ these manual methods. Individuals will venture into the water in a canoe and, using a pole, will bend and shake the wild rice stalks until the grains fall over the side and collect in the bottom of the boat.Most crops are cultivated far easier, though, with machinery that drives through each rice paddy and collects the grain. Each kernel is green when it's initially cultivated and must go through a heating process to expose the black grain we see on our dinner plates. From start to finish, wild rice is truly developed as a 100% natural food.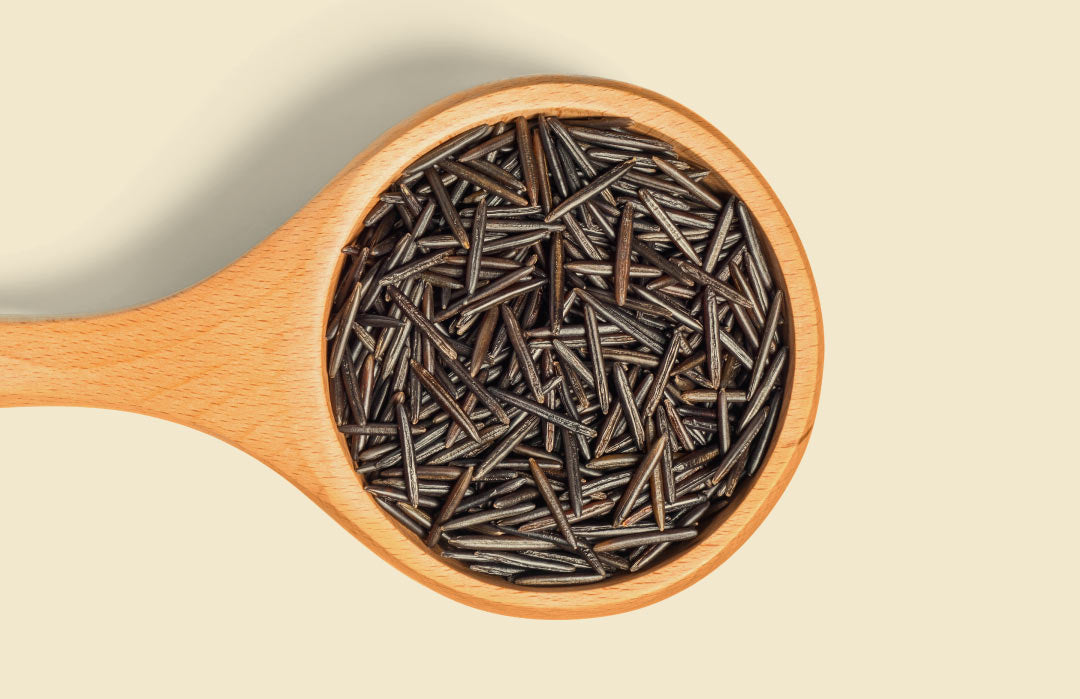 Rice is often touted as a healthy food, but as wild rice is a grain, many wonder how it stacks up against other options. Thankfully, if you love wild rice, you're doing your body a favor, as it's rich in antioxidants and is a heart-healthy food, potentially lowering cholesterol and warding off heart disease. Grain consumption has also been linked to reducing one's risk of developing Type 2 diabetes.

The wild rice nutritional facts don't stop there, as it is high in fiber and protein, all while being very low in fat. Minnesota wild rice boasts an array of vitamins and minerals and is considered to be a superfood by many. Remember, though, this grain also contains carbohydrates, so it's best to consume wild rice in moderation as part of a balanced diet.
Is Wild Rice Healthier Than Other Rice?
Not all rice is created equally, and when it comes to wild rice, this grain boasts far more nutritional value than other types of rice found around the world. Wild rice is an ideal addition to just about any meal as it compliments other foods and is easy to prepare. Offering the benefits of whole grains with minimal calories, it's easy to choose Maitreya's wild rice.
Many wonder, "Is wild rice good for you?", especially compared to the popular superfood brown rice? Or what about the highly antioxidant but lesser-known black rice? Can wild rice really be that much better for you than white rice? Let's compare wild rice with its counterparts to show just how nutritious and healthy this flavorful grain truly is.
White Rice
White rice may have a long shelf-life but the immense level of processing that this crop undergoes before it reaches your dinner table strips it of many of its nutritional properties. The husk, germ, and bran of white rice are removed after harvesting, leaving this refined grain with the least amount of protein, fiber, vitamins, and minerals of any type of rice on the market. While white rice is often a go-to for many, it's best to eat it in small quantities as part of a healthy diet.
Brown Rice
Often touted as one of the best grain choices, brown rice does have some great nutritional value. Like wild rice, it's high in fiber, protein, and some vitamins and minerals, but wild rice calories number far lower than that of brown rice. Ultimately, it's important to remember that wild rice isn't truly rice but is a species of aquatic grass, so it's difficult to make a true apples-to-apples comparison. However, both brown and wild rice are great choices for a heart-healthy diet.
Black Rice
Those looking for a nutrient-rich meal option won't go wrong with black rice or wild rice, although the two differ based on their growing environments. Black rice is thought to have the highest level of antioxidants and is rich in folate, B complex, and anthocyanin, a flavonoid that is associated with reducing one's risk of cancer and inflammatory conditions. Wild rice also contains large amounts of these compounds, making both options perfect for achieving health through whole grains.
Full of nutrients, wild rice is quickly growing in popularity. High in fiber, low in calories, and easy to prepare, it offers some amazing health benefits and is easy to incorporate into your favorite dishes. If you're sensitive to gluten, you might wonder "Is wild rice gluten free?" and the answer is yes! It also makes a great alternative to other types of grains.Studies have shown that wild rice contains 30 times the antioxidant activity of white rice and has been found to be effective in lowering cholesterol and maintaining healthy arteries. Further, wild rice is an ideal source of folate during pregnancy. While there is no completely perfect food on the market, wild rice comes pretty close!
Whole Grain
Unlike refined grains, whole grains are an important staple of a healthy diet. Wild rice is considered a whole grain and provides 7 grams of protein and 0.6 grams of fat in every cup, along with a lower glycemic level than other grains.
Helps with Diabetes
The vitamins and minerals found in wild rice are beneficial in reducing one's risk of Type 2 diabetes by up to 30%. This grain helps the body produce insulin and has a low glycemic index, meaning it won't cause a spike in blood sugar after eating.
Boosts Energy
Magnesium helps maintain energy levels as it assists the body in producing adenosine triphosphate, or ATP. Fighting fatigue from exercise or day-to-day activities, ATP is formed easier when foods like wild rice provide magnesium to the body.
Wild Rice Recipes
You won't find any shortage of wild rice recipe ideas, including wild rice and mushroom soup and turkey wild rice soup, as this versatile grain can be used in just about any dish. Try incorporating it in a salad or make a wild rice casserole.Check out some of our favorite wild rice recipes below!
Wild Rice and Chicken Soup
Ingredients
4 tablespoons unsalted butter
3 celery ribs, cut into 1/2-inch pieces
2 carrots, cut into 1/2-inch pieces
1 medium onion, chopped
2 garlic cloves, minced
1 1/2 tea spoons finely chopped thyme
Salt and Pepper
1/4 cup all-purpose flour
1 cup wild rice
2 quarts chicken stock or low-sodium broth
2 cups water
4 cups bit-size pieces of roasted chicken or turkey
1 cup heavy cream
Step 1
In a large saucepan, melt the butter. Add the celery, carrots, onion, garlic, thyme and a generous pinch each of salt and pepper and cook over moderate heat, stirring occasionally, until the vegetables just start to soften, about 10 minutes. Sprinkle the flour over the vegetables and cook, stirring, until evenly coated and lightly browned, about 3 minutes.

Step 2
Add the wild rice to the saucepan and gradually stir in the stock and water. Bring to a boil, then simmer over moderately low heat, stirring occasionally, until the vegetables are tender, about 30 minutes. Add the chicken and simmer, stirring occasionally, until the wild rice is tender, 10 to 15 minutes longer. Stir in the cream and season with salt and pepper. Ladle the soup into bowls and serve.
Wild Rice Salad
Ingredients
1 cup wild rice, rinsed
4 cups water
1 1/4 teaspoons salt
1/2 teaspoon orange zest
1/4 cup fresh orange juice
2 tablespoons olive oil
3 tablespoons apple cider vinegar
2 tablespoons honey
1 teaspoon dijon mustard
1/4 teaspoon freshly ground black pepper
1 cup pecans, toasted and coarsley chopped
1/2 cup dried cranberries
1/2 cup chopped fresh Italian parsley
2 celery stalks, diced
1 apple, peeled, cored, and diced
1/4 cup roasted and salted pepitas ( hulled pumpkin seeds)
2 scallions, light and green parts, thinly sliced
Step 1
In a medium pot, combine the rice, 3/4 teaspoon of the salt, and 4 cups of water. Bring to a boil, then turn the heat down to low; cover and simmer until the rice is tender and most of the grains have split open, about 50 to 60 minutes. Transfer the rice to a fine-mesh strainer to drain any excess water. Let cool.

Step 2
In a large bowl, whisk together the orange zest, orange juice, oil, vinegar, honey, mustard, pepper, and remaining 1/2 teaspoon of salt. Add the cooled rice, pecans, dried cranberries, parsley, celery, apple, pepitas, and scallions. Taste and adjust the seasoning, if desired. Serve cold or at room temperature.
Wild Rice Pilaf
Ingredients
2 cups wild rice
Regular strength chicken or vegetable broth
1/4 cup salted butter, slliced
1 large onion, chopped
1 cup thinly sliced baby carrots
2 cups freshly shaved brussels sprouts
4 garlic cloves, minced
1 tsp dry Italian seasoning
1/4 tsp freshly ground black pepper
1/2 cup dried cranbrries
Step 1
Cook rice according to package instructions, using the broth instead of water. When cook time is up, do not open lid; turn heat off and keep lid tightly covered for 10 minutes to allow continued steaming. If rice is still a bit too firm, mix in just enough extra broth to moisten all rice, cover, and simmer another 10 minutes.

Step 2
While rice is cooking, add butter to a large/deep skillet over medium high heat. Once butter is melted and starting to bubble, add onion and carrots. Stir to combine. Cover and cook 5 minutes, stirring occasionally. Add brussels sprouts, cranberries, garlic, Italian seasoning, and black pepper, stirring another 2 minutes until softened.

Step 3
Check rice for doneness. Fluff with fork and add to skillet with vegetable mixture, stirring to incorporate. Taste and season with kosher salt and freshly ground black pepper as needed.
Storing Wild Rice
When stored in an air-tight container, wild rice can stay fresh nearly indefinitely. It's best to keep it in a cool, dry place when possible. Once cooked, wild rice can be refrigerated for roughly one week and can be frozen for up to six months.